Charles Vest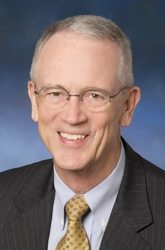 Charles Vest, president of the National Academy of Engineering and president emeritus of the Massachusetts Institute of Technology, will deliver Tufts University's commencement address and receive an honorary doctorate of science. Dr. Vest has made many contributions to science, engineering and education in his more than 40-year career and has sought to strengthen national policy in these areas. Prior to becoming NAE president in 2007, Dr. Vest served as the 15th president of MIT, stepping down in 2004 after 14 years.
During his MIT tenure, his team included an impressive number of men and women who would themselves go on to lead other noted universities, including Lawrence S. Bacow (Tufts), Robert J. Birgeneau (University of Toronto and University of California at Berkeley), Robert A. Brown (Boston University), Alice P. Gast (Lehigh University), and Mark S. Wrighton (Washington University).
Dr. Vest chaired the President's Advisory Committee on the Redesign of the Space Station and served as a member of the President's Committee of Advisors on Science and Technology, the Massachusetts Governor's Council on Economic Growth and Technology and the National Research Council Board on Engineering Education. He chaired the U.S. Department of Energy Task Force on the Future of Science Programs and was vice chair of the Council on Competitiveness and the chair of the Association of American Universities.
In February 2004, he was asked by President Bush to serve as a member of the Commission of the Intelligence Capabilities of the United States Regarding Weapons of Mass Destruction. He has received honorary doctoral degrees from 14 universities, and in 2006 President Bush awarded Dr. Vest the National Medal of Technology.
After earning an undergraduate degree in mechanical engineering at West Virginia University, Dr. Vest received an M.S.E. and a PhD in the same field from the University of Michigan, where he began his academic career in 1968. He was named provost and vice president for academic affairs at Michigan in 1989 before moving to MIT the following year. His work includes two books on higher education: Pursuing the Endless Frontier: Essays on MIT and the role of Research Universities (2004) and The American Research University from World War II to World Wide Web (2007).
Geoffrey Canada is president and CEO of the Harlem Children's Zone, a nationally recognized community-based non-profit organization that has dramatically increased high school and college graduation rates among students in Harlem, helping urban children escape the violence and poverty that Canada himself experienced growing up in the South Bronx.
Thomas Frieden is director of the U.S. Centers for Disease Control and Prevention and Administrator of the Agency for Toxic Substances and Disease Registry. He spearheaded efforts to reduce tuberculosis infection rates in India by 80 percent. His public health initiatives in New York City included a smoking ban in public workplaces and the elimination of trans fats from restaurants.
Jamaica Kincaid is an award-winning writer whose works of fiction and non-fiction frequently focus on the tensions between mothers and daughters and between mother and daughter colonies such as England and her native Antigua. She is a professor of literature at Claremont McKenna College.
Pamela Omidyar, J89, is a social justice advocate and founder of Humanity United, which seeks to build lasting peace and advance human freedom, and HopeLab, which harnesses the power of technology to improve the health of young people. She is a member of the Advisory Council to The Elders, an independent group of global leaders who support peace building, help address major causes of human suffering and promote the shared interests of humanity.
Pierre Omidyar, A88, is a Tufts trustee emeritus, philanthropist, entrepreneur and founder and chairman of eBay. He is a donor with his wife, Pam, of $100 million to Tufts to create the Omidyar-Tufts Microfinance Fund. He is founding partner and chairman of Omidyar Network, a philanthropic investment firm created with Pam, which creates opportunities for people to improve their lives.
Robert Solow, an Institute Professor Emeritus at MIT, received the Nobel Prize in economics in 1987 for his research into the critical role that technological advances play in economic growth. He was an advisor to President John F. Kennedy and received the National Medal of Science.