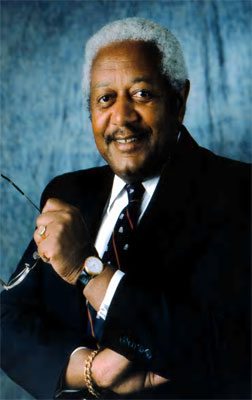 When DONALD E. WILSON, M62, was named dean of the University of Maryland School of Medicine in 1991, he became the first African-American dean of a predominantly white medical school. Wilson guided the school to its current position as one of the top medical schools in the country, e xpanding its research program and overseeing the construction of several new facilities to support research in infectious diseases, HIV/AIDS, nuclear magnetic resonance and mental illness.
Long committed to diversity and equity in health care, Wilson increased the diversity of the student body and quadrupled the number of minority faculty during his tenure as dean. He retired in 2006. "All I did is level the playing field," he says. "All of a sudden, we started finding more qualified people of color."
Though Wilson meant to retire when he stepped down as Maryland's dean, he notes, "I never have been able to say no to a reasonable request." That's why he now serves as senior vice president for health sciences at Howard University in Washington, D.C., and director of the Program in Minority Health and Health Disparities Education and Research at the University of Maryland School of Medicine.
Wilson knows he was born with a quality called leadership. "It's not necessary for me to know all the technical details, but I have the skills to get those who have the know-how to come together to get the best result," he says. "That's really what being a dean is about."
A gastroenterologist by training, Wilson has been influential in health-care policy at both the state and national levels. In addition to chairing several federal boards, he served as chair of the Maryland Health Care Commission, which regulates and monitors the quality of health-care services and HMOs in the state, and chair of the Association of American Medical Colleges and its Council of Deans.
Wilson decided to become a doctor when he was just eight years old. Suffering from a bad cold, he was impressed when a physician's shot made him feel better. He was born and raised in Worcester, Massachusetts, where there were few minorities in the school system. His parents were advised to send their precocious son to trade school rather than college preparatory school. It was advice his parents ignored, and Wilson rose to the top of his high school class and attended Harvard College.
At Tufts, Wilson struggled through his first year in medical school and even considered dropping out. But in his second year, things began to fall into place through the community medicine program run by Count D. Gibson, Jr., who, with fellow medical school faculty member H. Jack Geiger, established the nation's first community health centers at Columbia Point in Boston and in Mound Bayou, Mississippi.
Making house calls in Boston's different neighborhoods and interacting with patients, Wilson says, "made us understand why we were in medical school." He remembers the graciousness with which people greeted him. "I never treated a child whose mother didn't offer me tea and cookies."
After graduating from Tufts, Wilson quickly established himself as a top physician and researcher and became the youngest full professor at the University of Illinois College of Medicine, where he later became chief of gastroenterology. Prior to becoming dean at Maryland, Wilson was professor and chair of the department of medicine at the State University of New York Health Science Center at Brooklyn and physician-in-chief at the University Hospital of Brooklyn and Kings County Hospital Center, also in Brooklyn.
Wilson maintains strong ties to Tufts as a member of the Medical Alumni Association and as an overseer to the School of Medicine. In 2006 , he received both the Dean's Medal, in recognition of his dedication to diversity in medicine, education, and active citizenship, as well as his outstanding reputation as a physician, and the Distinguished Service Award, the highest honor of the Tufts University Alumni Association.
The university will award Wilson an honorary Doctor of Science degree.